Welcome to Calgary's
Tower Dental Clinic

!

At Tower Dental Clinic, our dedicated and caring team of dentistry professionals is passionate about offering quality dental care to members of our community that fits your needs, schedule, and budget.
Comprehensive Dental Services
We understand that all of our patients are unique and have individualized needs. At Tower Dental Clinic, we offer a complete, comprehensive range of dental services to Calgary patients, including hygiene & prevention care, cosmetic treatments, oral surgery, and dental care for children.
Emergency Care
Dental emergencies can occur at any time. At Tower Dental Clinic, we're proud to offer emergency dental services in addition to our top-of-the-line comprehensive care. Our emergency services are accessible to all, whether or not you're one of our patients.
What You Can Expect
The comfortable office at Tower Dental Clinic offers everything you need for a pleasant dental appointment, including:
Public Transit Accessible
Convenient & Free Parking
Convenient Location
Office & Reception
Comfortable Seating Area
Same-day Appointments
Financing Available
Direct Billing to Insurance
Short Wait Times
Automated Appointment Reminders
Phone Call Appointment Reminders
Wheelchair Accessible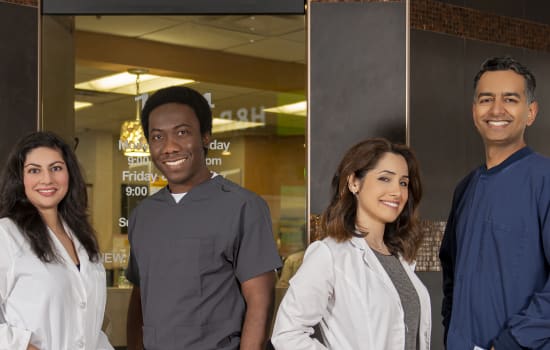 Our focus is on you.
At Tower Dental Clinic, we believe we've put together the best group of dental professionals to care for your family's oral health.
Our experienced team of dentists boasts 70 years of combined experience in practicing high-quality dental care for patients. 
We are pleased to introduce you to our highly trained dental team, which consists of dental assistants, dental hygienists, and administrative staff.
Office Tour
Click through the images below to tour our Calgary dental office.
We're always accepting new patients at our Calgary practice.
Book an appointment with one of our dentists to get the healthy smile you deserve!